After four qualifiers, we got the eight teams that will compete in this CS:GO season of A1 Adria League and during the last week we saw the first day of the League being played out. Each team played a BO1 match and we had a chance to see a couple of surprises and high-quality games on the broadcast.
GamerS1337 and Shock bomb played the first game in this season of A1 Adria League. The Macedonian-majority team, GamerS1337, had a good start on Dust2 and closed out the first half with a 9-6 lead. Shock bomb won the second pistol round and quickly started catching up to the GamerS, with the latter losing a 12-7 advantage. Luka "c0llins" Živanović and Shock bomb took the lead at the end of the game and closed the map 16-14 in their favour.
The second match of the day showed the reigning champions, Juggernauts, that winning back-to-back seasons of A1 Adria League will take much more effort than expected. Karavan started their Inferno game with a clean win in the pistol round. Miloš "dEE" Marčeta and Juggernauts won the force-buy, but couldn't keep playing on the same level and Karavan managed to increase their lead to 12-6 in the second half. Juggernauts tried to come back, but David "devoduvek" Dobrosavljević's debut was spoiled by the Karavan side who secured their first victory with a 16-10 scoreline.
The Kosovar derby between Gameroids and Blink saw the former have a dominant start on the defence and Blink couldn't counter them in any way. After a 10-3 lead for the Gameroids, Blink had a streak of 6 rounds and nearly evened the score. Ernest "xhoci" Xhoci contributed the most in the second half even after having a 0-8 start at the beginning of the game. Blink made the game much more intense and secured the 13th round before eventually losing the Inferno match 16-13.
The favorites who actually won their match in the first playday were QSKE Gaming who beat odred otpisanih 16-7 on Inferno. Valentin "powerdy" Duracoski's team had the lead during the whole game and didn't let odred otpisanih come close to them. After a 10-5 advantage on the defense, QSKE let their opponents win only two rounds before closing out the game and climbing on top of the A1 Adria League CS:GO leaderboard.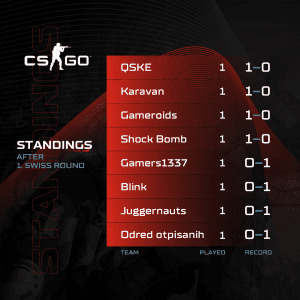 CS:GO's group stage continues today, so make sure to tune in and watch the best Counter-Strike our region can offer!
https://a1adrialeague.com/wp-content/uploads/2020/05/cs.png
1080
1920
ElGancho
https://a1adrialeague.com/wp-content/uploads/2020/04/A1AL2020-Logo.png
ElGancho
2020-06-03 13:39:48
2020-06-03 14:43:32
CS:GO group stage starts with two massive upsets!