With Alpha Elite winning the Brawl Stars League, it was time to turn to our other mobile title, Clash Royale, and end yet another, fifth, season with an incredible playoffs night.
Our commentator, PvtMole, had the chance to watch the Crusher Esports vs LA Gaming game first. LA Gaming started the game strong with a 2-0 victory in the first 1v1 set. Crusher struck back and won both the 2v2 and KOTH modes, while Tocilovac and LA Gaming once again prevailed in the second 1v1 mode. In the end, ConeKorleone wasn't able to outplay Bruno Blaze and LA Gaming were eliminated from the tournament.
Crusher went on and faced Totem Esports in the second match of the Gauntlet format playoffs. The first 1v1 set ended in favor of Crusher, while Totem bounced back during the 2v2 and KOTH sets. As Beast was playing the No Tilt league in the time of his match against Totem, the team had to surrender the last set and give the win to Crusher.
Crushter couldn't be stopped in the finals. After two hard-fought victories, they still managed to keep their cool, stay focused and beat Emperiial-Flayn in the Grand Finals. After an amazing 4-1 Group Stage, Emperiial lost the finals without winning a single set. It was amazing to see Crusher win three out of the three series they played and win the fifth season of Clash Royale.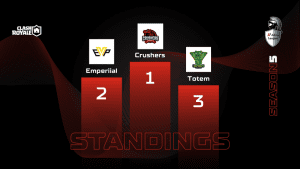 https://a1adrialeague.com/wp-content/uploads/2020/05/crpost-1.png
1080
1920
ElGancho
https://a1adrialeague.com/wp-content/uploads/2020/04/A1AL2020-Logo.png
ElGancho
2020-07-03 13:20:58
2020-07-03 13:20:58
Crusher Esports crush the competition in the Clash Royale playoffs!