The first part of the fourth SWISS CS:GO round was big for the Kosovar teams in the League. Blink and EAGLES two of the four playoffs spots, and unfortunately, eSportsKosova were eliminated from the tournament.
Blink vs. lvlUP
Probably the biggest derby in the region, Blink and lvlUP ended in favor of Sener "SENER1" Mahmuti's team this time around. After a 5-1 lead for Blink, lvlUP caught up and tied the match. The first half ended with a 9-6 lead for the former. The Serbian powerhouse managed to come back and take a 10-6 lead on their CT side, but Blink's players started dominating again and reached their 14th round without a problem. The match went to all 30 rounds, but in the end, Blink closed out Mirage with a close 16-14 victory.
Jon "b0r1" Nuredini's 4k in the first pistol brought the round in favor of Blink. Even though Vertigo is one of the best maps for the Serbian champions, Blink were in great form and took this match in only two maps. After a 9-2 lead for the Kosovars, Miloš "dEE" Marčeta's squad tried to go back into the game, but it was already too late. A 16-8 victory meant that Blink will be heading into the playoffs with a 3-1 record, joining Shock Bomb and the team that qualified after them, EAGLES.
eSportsKosova vs. EAGLES
The Kosovar duel between eSportsKosova and EAGLES started on Inferno. EAGLES had a great lead at the beginning of the half and managed to finish their T side with ten rounds. EAGLES' weak CT side was severely punished by eSportsKosova who caught up to them (13-13), but a semi-buy in round 27 won the 14th round for Serdar "cerber" Mahmuti. Just like Blink's first map, EAGLES barely escaped overtime and won Inferno 16-14.
Unlike lvlUP vs. Blink and their close Mirage game, this time, the match went to overtime. After both teams kept taking the lead, the regular part of the map ended in a 15-15 tie and we had the chance to watch overtime. EAGLES didn't let the pressured get to them and closed the map 19-17.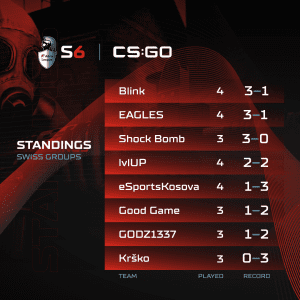 Today, we will have the chance to watch a Macedonian derby between GODZ1337 and Good Game. Both of the teams currently have a 1-2 record and the loser of this match will be eliminated from the sixth season of the A1 Adria League.
https://a1adrialeague.com/wp-content/uploads/2020/05/cs.png
1080
1920
ElGancho
https://a1adrialeague.com/wp-content/uploads/2020/04/A1AL2020-Logo.png
ElGancho
2020-11-01 11:51:00
2020-11-01 11:51:00
A Macedonian derby to end the fourth CS:GO SWISS round!