Recently we announced Reboot Online Games Week – a week full of fun, entertainment, and high-quality competition. The A1 Adria League playoffs along with different events joined by famous names from our region will take place every day for a whole week – from 23.11 – 29.11.2020.
One of the things that we mentioned first was the STREAM UŽIVO panel. You have probably heard of sprEEEzy, Sansen, neLo, Nikolarn, and DoubleAiM. All of these are famous regional esports personalities that will be taking part in the Reboot Online Games Week.
Nikola"Nikolarn" Aničić is a content creator for Team Singularity who has over 500 thousand followers on Twitch and constantly keeps growing. He plays all kinds of games such as Apex Legends, Call of Duty: Warzone – and VALORANT. Nikola will be the first on schedule when we talk about Reboot Online Games Week – join in on Monday at 13:00 and watch Nikola outplay other players in a couple of VALORANT matches.
Aleksa "DoubleAiM" Stanković is without a doubt one of the best League of Legends players in the region. Along with his former teammates and CR4ZY, Aleksa finished second in the latest season of EBL and took part in the European Masters competition. Starting at the same time as Nikolarn does, but on Tuesday, DoubleAiM will look to gain some of that juicy ELO while streaming his games to our viewers.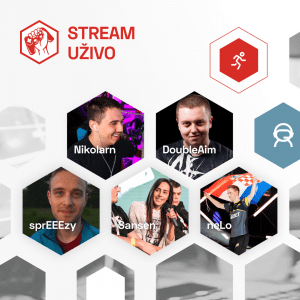 We will be watching one more stream on Tuesday. An ex-Overwatch and StarCraft II player, Maro "sprEEEzy" Miličević is currently focusing on PUBG. He will be one of the two guests for the Reboot Online Games Week that will stream this battle royale title and we hope that you will be present and cheer for him while he tries to get that Chicken Dinner at 17:00.
Former top 80 tennis player according to the WTA as well as a PUBG player and host, it seems like Sanda "Sansen" Mamić rocks the competition in every game she plays. Sanda has plenty of PUBG experience in the regional and international scene, having attended tournaments such as the second season of Broadcaster Royale and the Girl Gamer Royale S1. She has also been a shoutcaster for the PUBG Balkan League along with our dear A1 Adria League caster Baro "Pougljeni Mrav" Barukčić. Check out her stream on Wednesday at 13 o'clock.
Last but most certainly not least comes Leon "neLo" Pesić – the absolute best Croatian Rainbow Six: Siege player who recently spent more than a year playing for Natus Vincere, one of the top R6: Siege teams in the world. neLo's stream begins at 18:00 on Wednesday and we expect to see a big number of regional fans watching him dominated the tiers of R6.
Make sure to be on the stream while these regional esports personalities are streaming (you should be on the stream anyway!), as they know how to do a great entertaining stream while providing a high-quality stream skillwise. More information for the other panels will be available soon..
https://a1adrialeague.com/wp-content/uploads/2020/11/Stream-uzivo.png
1080
1920
ElGancho
https://a1adrialeague.com/wp-content/uploads/2020/04/A1AL2020-Logo.png
ElGancho
2020-11-20 19:26:33
2020-11-20 19:26:33
Watch your favorite streamers during the STREAM UŽIVO panel!