Brawl Stars and FIFA, two of the three games that ended their qualifiers last week, closed out the first round of the A1 Adria League Season 7 SWISS stage.
Brawl Stars
Our first two matches of the Brawl Stars group stage were played out yesterday. In the first game of the day, we watched a Croatian derby between Tora Gold and NobleElite Red. These two teams already met each other during the qualifiers with NobleElite Red coming out victorious in that match. This time, Tora Gold managed to outperform their rivals and secured the first SWISS win. The match was intense until the very end and went all the way into the fifth map, which saw Tora Gold triumph over the Red squad.
During the duel between Lil Surprise and 09 Gang, the latter had to forfeit because one of their players left the team during the game, and they had no substitutes to replace him. Lil Surprise – the winners of the second qualifiers are now a part of the 1-0 pool, together with team Tora Gold.
FIFA21
Just a day after the first Brawl Stars matches concluded, the regional FIFA players stepped into the football courts to win their first matches for this season. Esad "esad1memic" Memić and Armin "arminho0307" Hasanbegović marked the beginning of this season's group stage. What followed was a close game that saw esad1memic clinch a 3:2 win in the series. arminho was a great opponent, but the season 5 champion scored one more and entered the 1-0 SWISS pool.
Tarik "amke2001" Novo, the winner of the first qualifying cup for this season, faced off against Leon "Sardinho213" Šardi and managed to get a convincing win in the series. After the games concluded, amke had a 6-1 lead against his Slovenian opponent and secured his spot in the 1-0 pool.
You can check the FIFA rankings by clicking HERE, and you can get familiar with the current Brawl Stars standings on the following LINK.
CS:GO Groups start tomorrow!
Tomorrow, we will witness the first matches of our CS:GO SWISS stage. Make sure to tune in on our channels and support your favourite teams – starting at 16:00h with Baro and Proka.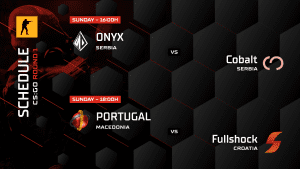 https://a1adrialeague.com/wp-content/uploads/2021/04/article_featured-1.png
1080
1920
ElGancho
https://a1adrialeague.com/wp-content/uploads/2020/04/A1AL2020-Logo.png
ElGancho
2021-04-03 14:00:34
2021-04-08 17:43:49
Tora Gold stun Lavvek & co.; amke demolishes Sardinho with 6:1!