After two intense weekends of the League of Legends championship, we have finally gotten a new champion in the ninth season of the A1 Adria League. Even though we have seen a lot of great teams, one name stood out in front of the others. It was team DZANGLERI who in the end came victorious defeating everybody on their journey to the title.
DZANGLERI bested Reroot Gaming in the Grand Final
Last week we have seen four teams advance to the League of Legends playoff in A1AL. DZANGLERI, GINYU FORCE, Reroot Gaming, and Harmony deserved to fight for the title and 1000€ prize pool.
The upper bracket semi-finals started well for last season vice-champions Harmony, who defeated Reroot Gaming and sent them to the lower bracket of the tournament. In the other semifinals, DZANGLERI easily won against GINYU FORCE, who with this defeat had to face Reroot Gaming.
While the semifinals were Bo1, the finals of the lower and upper brackets were Bo3 as well as the grand final. In the upper bracket finals, DZANGLERI managed to send Harmony to the lower bracket with an easy 2:0 score. The lower bracket semifinals went into the hands of Reroot Gaming as well as the finals against Harmony. Reroot eliminated Harmony after two games, a team that has been the second-best LoL squad in the last season of the A1 Adria League.
The grand final saw DZANGLERI and Reroot Gaming compete for the title of the best regional LoL team. Reroot Gaming handed DZANGLERI their first loss today in game 1. But that's everything Reroot Gaming got in this series. DZANGLERI picked up their game and won the next two matches over their opponents. They were a superior team throughout the whole playoffs which in the end brought them a 700€ prize. Reroot Gaming in the second place will be awarded 300€.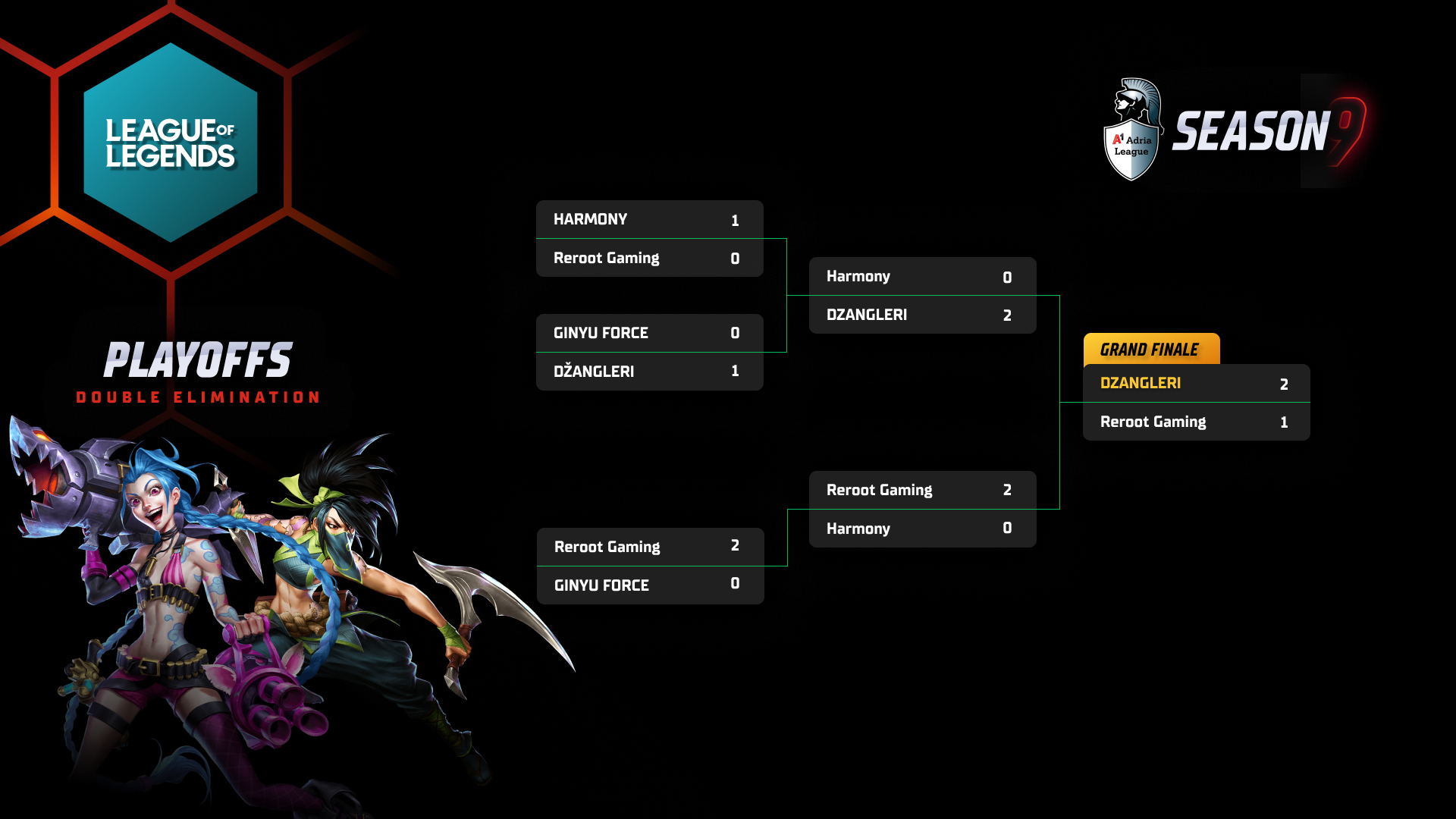 https://a1adrialeague.com/wp-content/uploads/2022/04/A1-Adria-League-LoL-Playoffs-2.png
735
1280
galadriela
https://a1adrialeague.com/wp-content/uploads/2020/04/A1AL2020-Logo.png
galadriela
2022-04-16 20:19:47
2022-04-16 20:26:40
The new LoL champions of the ninth season are DZANGLERI!