As we are approaching the fourth SWISS round of A1 Adria League, let's take a look at what happened in the last two playdays.
Athaim (ex-Karavan) managed to upset yet another favorite in an intense Train match. This time, Blink was the team that couldn't handle Filip "DEPRESHNN" Jarkić's troops and Athaim are now a victory away from the playoffs. The match between GamerS1337 and odred otpisanih was cancelled due to odred otpisanih not being able to have all five players available on time.
The second playday of the third round saw Juggernauts take on Shock bomb on Mirage. The ex-Juggernauts player, Luka "c0llins" Živanović wasn't able to stand up to his old teammates and lost the match 9-16. The Shock bomb players were able to get back in the game after a shaky start, but they couldn't show up in the second half and gave a point to the current champions.
In the first BO3 match of the league, QSKE Gaming faced Gameroids in the 2-0 pool match. Gameroids started the series dominantly with a 16-6 victory on Dust2. QSKE didn't stand a chance on Gameroids' map pick, but they managed to bounce back on Nuke with a close 16-14 win. The last map, Overpass, went in favor of Gameroids in the first half. Even though Gameroids had a five-round advantage, the Macedonian squad had a perfect T-side and closed out the match without losing a single round (Overpass – 16-10).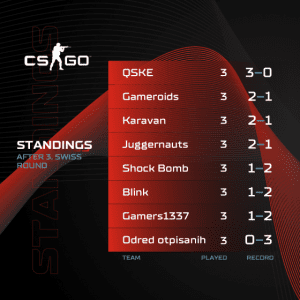 https://a1adrialeague.com/wp-content/uploads/2020/05/cs.png
1080
1920
ElGancho
https://a1adrialeague.com/wp-content/uploads/2020/04/A1AL2020-Logo.png
ElGancho
2020-06-14 12:00:21
2020-06-14 12:00:21
QSKE are going to the playoffs; odred otpisanih eliminated