In the final two matches of this season, Metamoon came out on top and outplayed both 49% winrate and Harmony to win the main prize.
As the double-elimination League of Legends bracket has been slowly progressing throughout the season, only two matches remained for today. The matches in question were the lower-bracket final and of course, the grand finals. Since 49% winrate outplayed Clouded Leopards in the previous round, they were set to challenge Metamoon for a spot in the finals. 49% winrate didn't weren't in a good form today, so Metamoon had an easy time in the lower-bracket finals (2-0).
This win put Harmony and Metamoon in the final match. The two teams played each other a week ago when the Macedonian side was better in the upper-bracket finals. This time, however, Metamoon was clearly the better team. Harmony couldn't win a single game, and the result was 3-1 only because they came from the upper bracket. After losing to Split Raiders in the last season, this is the second consecutive season that Harmony finish the season in second place. We are happy to conclude one more League of Legends tournament for this year. Congratulations to every team that participated and especially to Metamoon, who are your A1 Adria League LoL champions!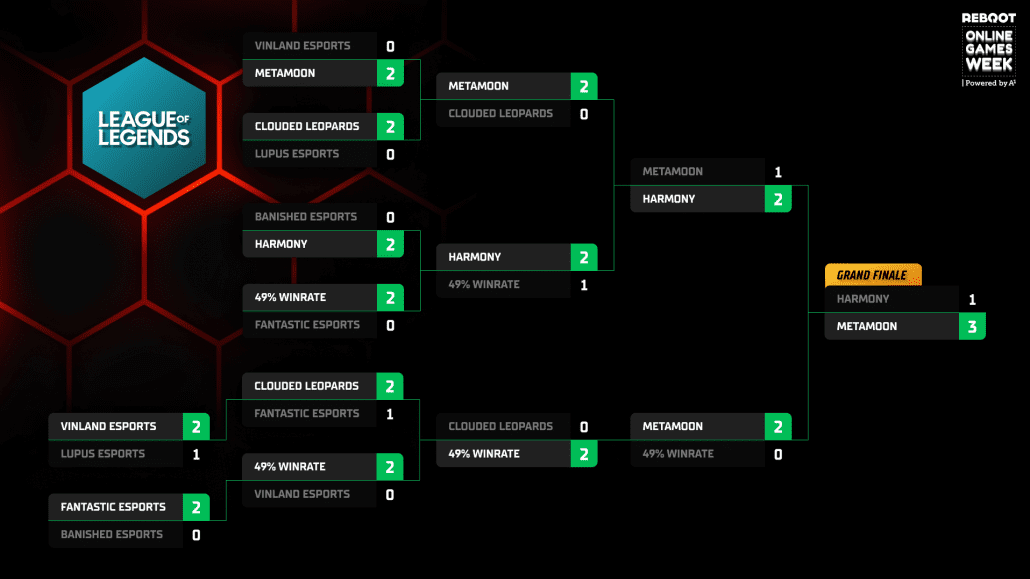 These are the top 4 League of Legends teams for the season:
1. Metamoon – €1600
2. Harmony – €1200
3. 49% winrate – €800
4. Clouded Leopards – €400
https://a1adrialeague.com/wp-content/uploads/2021/09/League-of-Legends.png
720
1280
ElGancho
https://a1adrialeague.com/wp-content/uploads/2020/04/A1AL2020-Logo.png
ElGancho
2021-11-20 17:54:46
2021-11-20 17:54:53
Metamoon are your A1 Adria League LoL champions!