During the weekend the second A1 Gaming Weekend was played out. The first matches were finished fairly quickly on Saturday, while on Sunday we had the chance to see the best of the best Rocket League duos battle it out on stream.
Both of the finalist teams started out the tournament in the first round. Tryhard Kidz and Aim Assist advanced to the second round after victories against DE | Black and Vrucag Uzica respectively, while L3 had no difficulties versus ExquzeS. Except for the Tryhard Kidz – Bwoah matchup that ended 2-1 in favor of the former, all of the round 2 matches were one-sided 2-0 victories for the favorite teams. Real Misfits bested Simple Boys, Size Matters were better than Calculatando and Suzavci outplayed the Macedonian duo Volovi in the Round of 16.
We proceeded to the Best of 5 games in the quarterfinals. No upsets happened in this third round either, and the quarterfinals quickly came to an end after four 3-0 victories for the much better teams. Tryhard Kidz, Suzavci, Aim Assist, and Size Matters all survived the first day and secured a spot in the semifinals of the Rocket League tournament.
Our caster, Pougljeni Mrav finally got to spend some time casting his game, Rocket League. While Tryhard Kidz barely slipped past Suzavci in the first semifinal, Aim Assist outplayed Size Matters in every way possible. Alexii and hoodied were on a whole different level in the Grand Finals as well and Tryhard Kidz didn't stand a chance. Dred and Haregan were able to win one of the five games played, but Aim Assist closed out the match 4-1 and secured the first-place prize. In the third-place decider, Size Matters breezed past Suzavci with a 4-0 win and took their share of the prize pool.
The best four teams finished the second A1 Gaming Weekend cup in the following order:
1. Aim Assist – (hoodied, alexii) – €200
2. Tryhard Kidz – (Dred, Haregan) – €150
3. Size Matters – (ENTONI, Stipsy) – €100
4. Suzavci – (Hidex, Daciii)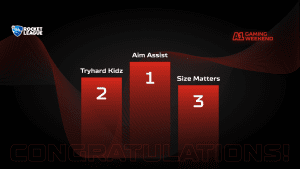 Tune in next week for the final A1 Gaming Weekend cup – Pro Evolution Soccer awaits! You can read more about the PES cup by clicking here, and we have an upcoming interview with one of the admins that is a must-read.
https://a1adrialeague.com/wp-content/uploads/2020/07/freatured.png
1080
1920
ElGancho
https://a1adrialeague.com/wp-content/uploads/2020/04/A1AL2020-Logo.png
ElGancho
2020-07-27 14:35:24
2020-07-27 14:35:24
Aim Assist triumph at the second A1 Gaming Weekend!