Since CS:GO's qualification cups were delayed because of the RedBull Flick competition along with FPL-C qualifiers and Clash Royale had its only qualifier finished last week, only two games had their qualifiers played during the last week, FIFA and Brawl Stars.
Brawl Stars
In the second week of the A1 Adria League Qualifiers for Brawl Stars we saw some of the top teams further strengthen their spot on the table while at the same time, some newer names earned their first points. Good Game once again managed to get to the top eight teams after beating No Name in the Round of 16. OPTinferno and the rest of No Name finished second in the previous qualifier, but couldn't get any points in the second qualification cup.
Deadly and Banda Kasharit bested YNWA and Taks1 respectively to earn 35 points each and last week's champions, Free Agents, had a dominant win against RAURAU. Come Back couldn't come back against So Bad, while Easy Win breezed past GalaxyHR to enter the quarterfinals. In the last two matches of the Round of 16, we had a chance to see Mayoi and ULC eSports secure their spots in the top eight teams.
Deadly weren't that deadly in their match versus Good Game and Free Agents continued with their incredible performances in the quarterfinals. ULC eSports got eliminated by Mayoi with the latter making their second semifinal appearance in a row. Easy Win didn't let So Bad take more than 35 points this week and they occupied the last free spot in the semis.
Mayoi managed to get into the finals after beating Easy Win, securing a match against the reigning champions, Free Agents. Even with their great form, Mayoi didn't present much of a challenge for Free Agents and the squad took 100 more points, adding up to the leading 200 points on the leaderboard.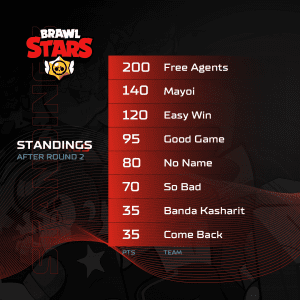 FIFA
Same as Brawl Stars, the A1 Adria League qualifiers for FIFA continued in the last week. Filip "FIFAFIĆO" Babić, the champion of the first qualifier couldn't participate in the second cup which gave a chance to other players to catch up to him. Armin "arminho0307" Hasanbegović took advantage of that and finished first in the second week of FIFA qualifiers.
esad1memic couldn't get past Bati in the first match of the quarterfinals while Erminjamak managed to beat HRVoje-95 in the same part of the bracket. arminho0307 slowly made his way to the finals with a stellar victory against Hardi and last week's second-placed player, brstimir, finished this qualifier at 5th-8th after a loss to Mrky2402.
Erminjamak and Mrky2402 lost their respective semifinal matches and were sent to the 3rd place decider where Mrky2402 came out as the better player. In the Grand Final of the second FIFA qualifier for A1 Adria League, Bati fell short to arminho0307 with the latter earning himself the maximum 100 points.